Full name: Bakhar Nabieva
Net Worth: $250,000
Occupation: Professional bodybuilder and Model
Birthday: April 8, 1994
Birthplace: Baku, Azerbaijan
Birth Sign: Aries
Spouse: Unknown
Bakhar Nabieva is a bodybuilder and model from Azerbaijan. Her profession is a fitness training model, and she is a tiny person at only 5' 2". She also has a large following on her social media accounts, where she keeps her Instagram, YouTube, and Facebook accounts up to date for her many fans. She is also a self-taught fitness expert, which is quite impressive.
Bakhar Nabieva was born on April 8, 1994, in Baku, Azerbaijan. She was a skinny child and used to be bullied because of this, which is why she decided that she was going to get herself in shape and improve her figure. She has brown hair and brown eyes, and her nickname is Miss Iron Bum. At 125 pounds, she is not overweight, and thanks to her intense workout routine, she has a beautiful figure that many women envy.
Because she was so thin as a child, she decided, later on, to join a gym and start working out. She never took any formal classes or trained with a professional, but instead, she taught herself how to lift weights and get into shape. It all paid off eventually because she now has a perfectly molded body that is just the right combination of muscles and lean looks, making for a perfect figure.
Nowadays, Nabieva is a fitness model, but before that, she joined a bikini fitness contest, even though she is no longer interested in entering contests. She lives by a strict diet of very few carbohydrates and a strict exercise and weight-lifting regimen as well. In her social media sites, which include Facebook and Instagram, she shares her modeling videos, workout routine, and all types of photographs of herself.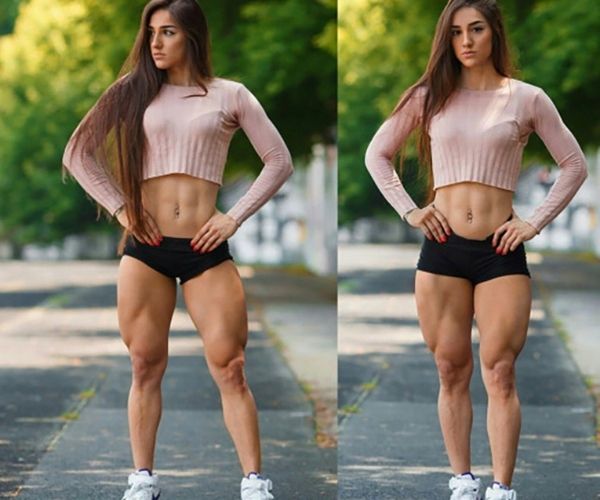 No one knows for sure if Nabieva is dating or married; however, in 2017, she posted a picture of herself with a very handsome and well-built young man and two young children, which are rumored to be her family. Her Instagram followers include over two million people, and she has roughly 16,000 followers on YouTube.
She has a self-titled channel on YouTube, where you can find dozens of photographs and videos of her in various workout routines.
Nabieva currently lives in western Ukraine, in the Dnipropetrovsk Oblast area. As you can imagine, her great figure did not happen overnight. In fact, she has spent many years concentrating on her diet, her weight-lifting routine, and her exercise regimen to get where she is today, and it has not gone unnoticed. Just look at the number of followers she has on each of her social media accounts, and you'll immediately understand how popular she is – and why.
Not only does Nabieva look good, but she is also the picture of health, and she is an extremely strong person as well. With a body like hers, it is no wonder she has attained the level of success that she has. It is also little wonder that she now has a net worth of roughly $250,000. Again, she says she is not interested in competing – although she could certainly do so and be successful at it – but is more interested in teaching others how to look good and stay healthy.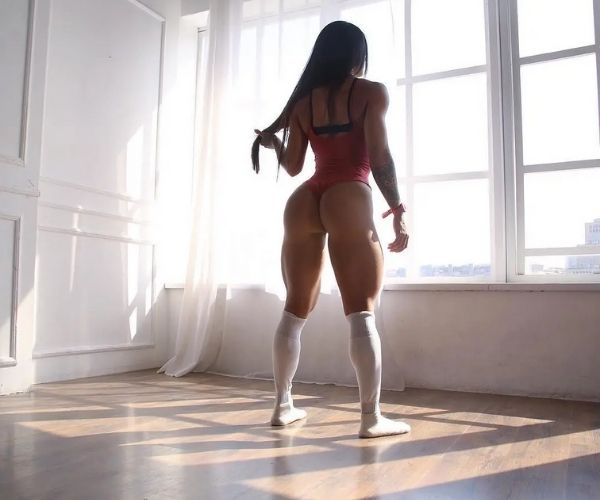 When Nabieva first started working out in the gym, she never counted reps or kept her routine very organized. Instead, she just went in there and did as much as she could until she felt comfortable with the amount of weight she was able to lift. Although she has a very small waist, her legs, arms, and torso area are completely toned and muscular, and she looks more like a male weightlifter than anything else.
She also started reading weightlifting magazines and researching the field so that she could learn as much as possible about getting in shape. Sooner than she expected, she began to notice that her legs and arms were getting toned up, which showed her she was going in the right direction.
One of the reasons she doesn't compete professionally is because she feels their diet and food requirements are too restrictive, and she feels they simply aren't nutritious enough for her.
Nabieva's influences include Gracyanne Barbosa, who is also a bodybuilder and who enters competitions as well.
Net Worth
Bakhar Nabieva, a fitness instructor and model in her late 20s, has amassed enormous fame and wealth as a result of her career as a fitness instructor and bodybuilder. The estimated net worth of Bakhar is about $250,000.
Bakhar Nabieva is beautiful and fit, and perhaps her biggest asset is the fact that she works so hard to share her success with her many fans. She seems to be beautiful both on the outside and on the inside, and since her main goal these days seems to be to help others look and feel better about themselves, it is likely that she will see her career blossom even further in the days to come.