Full name: Carley Noelle Shimkus
Net Worth: $1.2 Million
Occupation: Reporter and media correspondent
Birthday: November 7, 1986
Birthplace: Long Valley, New Jersey
Birth Sign: Scorpio
Spouse: Peter Buchignani
Education: Quinnipiac University, Connecticut, George Washington University
Works At: Fox News
Nationality: American
Father: Edward Shimkus
Mother: Zulma Shimkus
Sister: Margot
Carley Shimkus is one of the best-known reporters of Fox News Channel. She rose to prominence through her sheer hard work for the Fox channel and she appeared in shows like Mediabuzz and Fox & Friends First.
Carley joined Fox News Channel as a full-time correspondent and her work mainly involves bringing entertainment industry news and news about social media trends to the public.
Carley Shimkus (nee Carley Noelle Shimkus) was born in Long Valley, New Jersey on November 7, 1986. Her father is Edward Shimkus and mother is Zulma Shimkus.
Carley's mother was a flight attendant who worked for United Airlines and she and Carley's dad met on a flight in 1982 when her dad was traveling.
Carley has an older sister, Margot, who attended the College of New Jersey, where she studied art education.
She lives in New York City, where she works as an art instructor. As a teenager, Carley developed an interest in modeling and before her matriculation, she decided to give it a try.
However, Carley discovered that just good looks and beauty are not sufficient for a career as a successful model and she decided that she would not pursue modeling.
She then joined Quinnipiac University, Connecticut, where she pursued her Bachelor of Arts in Broadcast Journalism.During this time, Carley also spent a semester at the George Washington University, where she did a short journalism course.
Three years after Carley joined Fox News, in 2012, she moved to the Fox Business Network as an assistant producer. Earlier, Carley was the producer of the radio show by Don Imus, Imus in the Morning, where she conducted interviews behind the scenes for Imus.
In 2016, because of her hard work and determination, Carley became a media correspondent with the channel and ever since her role has been to bring entertainment industry news and news about social media trends to the public.
Carley featured in many shows of Fox News, including shows like Fox & Friends, Fox & Friends First and Mediabuzz. Currently, Carley is the headlines reporter for Fox News.
Carley has appeared in many online videos for Fox News Magazine. In 2016, she did several videos called My Big Fat Digital Wedding, where she gives advice to brides. Carley was the co-host of the show, All America Year, a New Year's Eve special.
Carley is not very open about her personal life. Carley is married to Peter Buchignani, who works at Amherst Pierpont Securities in Chicago.
Carley had hinted about her relationship with Peter via Twitter on May 15, 2015. Carley and Peter were married in New Jersey on August 8, 2015, at Fiddlers Elbow, where they exchanged their marriage vows.
The duo met at Carley's 23rd birthday party in 2013 and they started dating after a couple of months after their meeting. and she shared the details of her wedding through Fox News videos. In June 2022, their daughter Zoe will be two.
Both Carley and Peter are hardcore Michigan football fans and on their wedding day, the couple walked out to Go Blue, the Michigan fight song. Carley now lives with Peter in New York City.
Ever since Carley embarked on her career, she had both the skill and luck, which enabled her to join the leading mass media company and her she has risen steadily in her career becoming quite successful in her field.
As per reliable sources, Carley earns a salary of $66,000 per annum and her net worth is estimated to be around $1.2 million.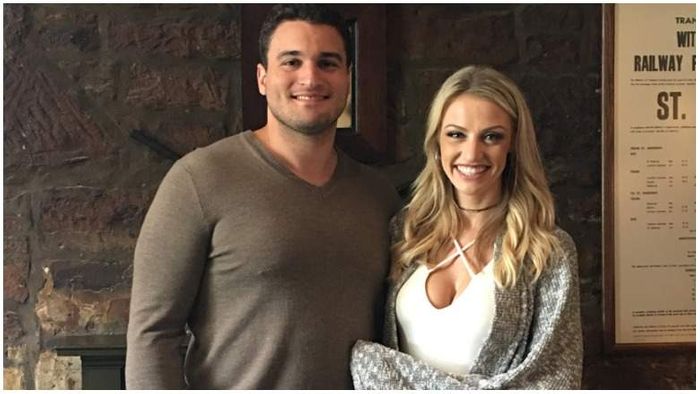 Buchignani lived in Illinois for most of his life but now he is based in Chicago, where he has worked since 2015. Carley lives in New York; however, her Instagram shows that the couple spends quality time by taking vacations together.
Buchignani studied at Princeton University and has a bachelor's degree in political science. Buchignani played on his university football team and he has earned the All-Ivy honorable mention two times.
After he graduated, he decided to pursue business and he joined Barclays Capital as a sales analyst.
He met Carley during this time and they started dating. Buchignani then worked at Deutsche Bank and since March 2015, he has been with Amherst Pierpont Securities in Chicago. Buchignani works in the business development department of the company and handles their "securitized products sales".
Carley has become very popular on several social media platforms over the years. She has accounts on Instagram, Twitter and Facebook. On her Twitter account, Carley has more than 46k followers.
She shares news about her career and other posts on Twitter including the live coverage of New Year's Eve. Carley also has an account on Instagram, where she is quite popular and has around 140,000 followers.
She shares more of her personal stuff on Instagram. She shares photos of herself with her husband and has also posted her wedding picture on the website.
She also shares pictures and videos of her work and she also posted the video of her hosting the show, Fox & Friends First. Carley also has an account on Facebook; however, she only has around 4,000 followers on the platform.
Body Structure of Carley Shimkus
The Carley Shimkus stands at a height of 5 feet 10 inches in height. She is the ideal height, which is why she gave modeling a shot in addition to pursuing other careers. Working out on a regular basis is how she maintains her physical health and keeps herself engaged.
You should be aware that the weight of this magnificent anchor is merely 53 kilograms, which is equal to 116 pounds. You will be relieved to learn that Carley Shimkus is a very health-conscious anchor who puts in a lot of effort to make sure that she stays in good shape.