Full name: Nancy Ann Kerrigan
Net Worth:

$10 million

Occupation: F

igure skater and actress

Birthday: October 13, 1969
Birthplace: Stoneham, Massachusetts, United States
Birth Sign: Libra
Spouse: Jerry Solomon
Nancy Kerrigan is a champion figure skater and actress who gained notoriety when she was attacked after an ice-skating practice in 1994. The ex-husband of her rival, Tonya Harding, was implicated in the attack as was Harding herself. Throughout her career, Kerrigan has won several bronze and silver medals, and she was inducted into the United States Figure Skating Hall of Fame in 2004.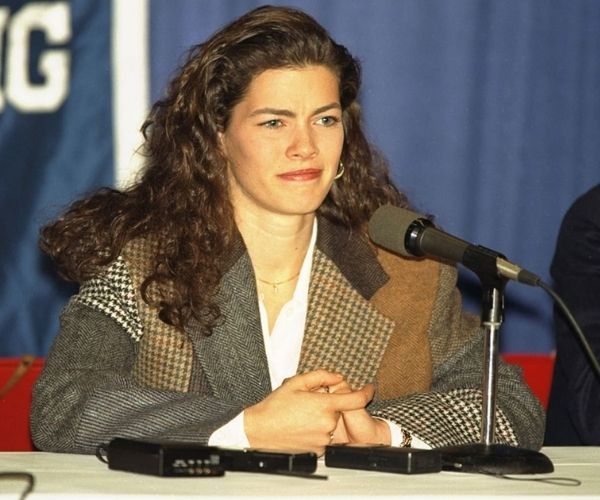 Nancy Ann Kerrigan was born on October 13, 1969, in Stoneham, Massachusetts, to parents Daniel, a welder, and Brenda, a homemaker. She was the youngest child and has two older brothers, Michael and Mark. While her two brothers chose hockey as a hobby, Nancy took up ice skating at age six. She started private lessons when she was eight years old, and she won her first competition, the Boston Open, at the age of nine.
Kerrigan's family was of modest means. Her father held down several jobs in order for his daughter to have private lessons, even driving the ice re-surfacer at the local rink in exchange for Nancy's lessons at one point. Kerrigan's first coach was Theresa Martin, and then she was coached briefly by Denise Morrissey. Evy and Mary Scotvold became her coaches next, and they remained her coaches until she stopped skating.
Kerrigan attended Stoneham High School in her hometown, and she later went to Emmanuel College in Boston in order to study business. On September 9, 1995, after her retirement from professional figure-skating, she married her agent Jerry Solomon. They have three children together: Matthew, born in 1996; Brian, born in 2005; and Nicole, born in 2008. She suffered a total of six miscarriages while trying to have her three children, which she has said were devastating and difficult on her marriage.
In January of 2010, Kerrigan's father died at the age of 70, and prosecutors charged her brother Mark with manslaughter because they believed that the death occurred over a violent fight that father and son had had before Daniel Kerrigan died. However, the charges were later dropped, and today Kerrigan is convinced that her father died because of a long-term heart condition. Mark Kerrigan, however, was still convicted of assault and battery.
Kerrigan also created the Nancy Kerrigan Foundation, whose goal is to raise support and awareness for those who are vision-impaired. Kerrigan's mother, Brenda, is legally blind, so the issue is near and dear to her daughter's heart.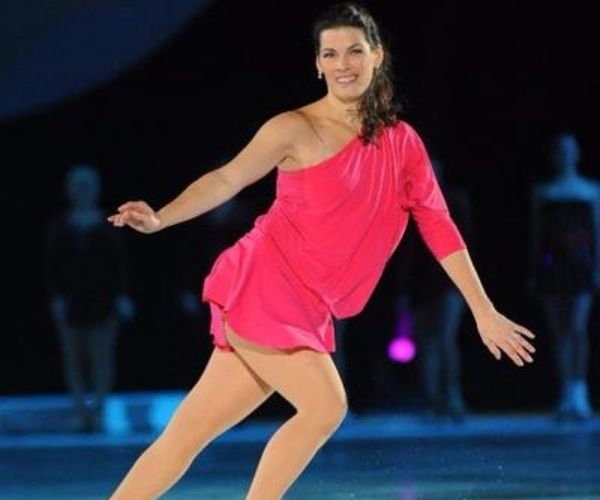 Kerrigan won her first competition as an adult in 1987 when she placed fourth in the U.S. Figure Skating Championships. She continued to compete in this competition and scored twelfth in 1988, fifth in 1989, and fourth in 1990. The 1991 U.S. Figure Skating Championships saw Kerrigan placing third, which qualified her for the World Figure Skating Championships, where she won a bronze medal.
In the 1992 Winter Olympics, Kerrigan won the bronze medal, and she won the silver medal in the 1992 World Championships.
It was around this time that Kerrigan began taking on corporate sponsors, working with companies such as Reebok, Seiko, Campbell's Soup, and Evian. To prepare for the 1994 Winter Olympics, she cut back on some of this activity in order to concentrate instead on her training, even hiring a sports psychologist to help her better handle her nerves when she was competing.
On January 6, 1994, as Kerrigan was practicing in Detroit for the U.S. Figure Skating Championships, she was attacked by a man with a collapsible police baton, which he used to strike her on the knee. It has since been known as "the whack heard around the world." Eventually, her rival Tonya Harding's ex-husband Jeff Gillooly and another man by the name of Shawn Eckardt were charged with the crime.
Harding was also charged, although the extent of her involvement still remains controversial. She was eventually banned permanently from the world of figure skating.
Kerrigan quickly recovered from the attack and went on to win the silver medal in the 1994 Winter Olympics. She also picked up additional sponsors, which reportedly included endorsements worth $10 million in total. Later on, the man who actually attacked her in January, Shane Stant, tried to have his conviction overturned because he wanted to join the U.S. Navy Seals. The request, however, was denied.
When she placed second in the 1994 Winter Olympics, her image as the darling of America became tarnished when she made a rude comment about Oksana Baiul after she was told that the awards ceremony was delayed because Baiul needed to touch up her makeup after crying it off, which later turned out not to be true. Kerrigan was shown on television saying, "Oh, come on. So she's going to get out there and cry again. What's the difference?" It didn't fare well with fans.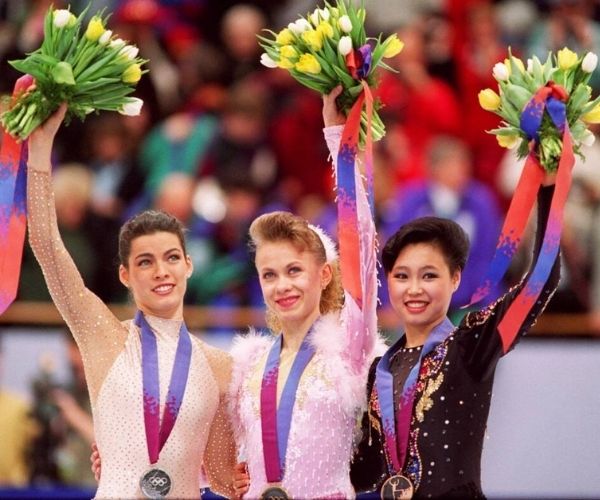 After the 1994 Olympics, Kerrigan gained more controversy when she went to Disney World and was shown verbalizing how dumb she thought it was to be shown with Mickey Mouse. She claimed later that her comments were taken out of context and that she was really saying that she didn't think it was appropriate to wear the silver medal while being filmed with Mickey Mouse.
The year 1994 was not all good to Kerrigan as she later appeared on the Kids' Choice Awards, where she was shown being disgusted after she was "slimed" and a less-than-successful performance on Saturday Night Live. This resulted in various endorsements being dropped after the 1994 Winter Olympics and in the media writing about her less and less from then on.
However, many media professionals came to her defense, claiming that she was overwhelmed by her instant celebrity and had to deal with exhaustion, jet lag, and microphones were thrust in her face constantly.They claimed that Kerrigan needed time to adjust to her new status and that people on all sides should cut her some slack.
Kerrigan's skating awards include:
In addition to these awards, Kerrigan was inducted into the United States Figure Skating Hall of Fame in 2004, and she was honored at the Ice Theatre of New York's annual benefit gala in 2008.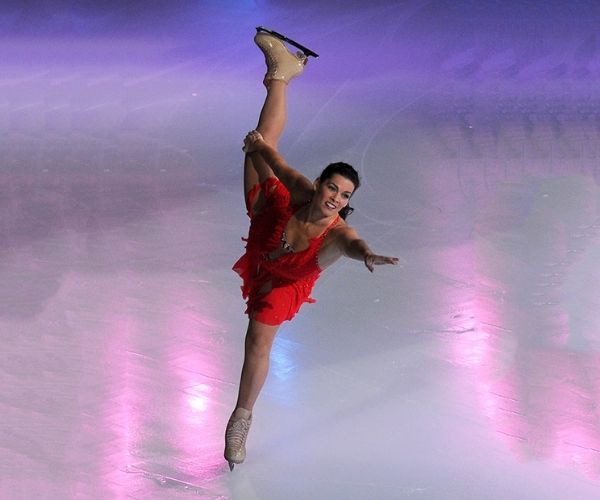 Kerrigan's skating costumes have also garnered a lot of attention and many of the costumes that she's worn on the rink have been designed by Vera Wang. These include a flowing white dress that resembled a wedding dress, a white one trimmed in black and made partly out of velvet, and a champagne-colored dress that contained over 11,000 rhinestones. The dresses have been estimated to be worth up to $13,000, and Wang donated at least two of the costumes to Kerrigan for her to keep.
After her Olympic career was over, Kerrigan continued to skate and appeared in several competitions as a professional, including Ice Wars, Broadway on Ice, and Champions on Ice, not to mention the adaptation of the musical Footloose and others. In 2003, thanks in part to her interest in the Nancy Kerrigan Foundation, she began her role as a national spokesperson for an organization called Fight for Sight.
Because of her tremendous success in the world of figure skating, it comes as no surprise that Kerrigan would eventually be invited into the world of television and movies. In 1994, the movie Tonya and Nancy: The Inside Story was aired, and the actress Heather Langenkamp played Kerrigan. That same year, Kerrigan was a guest on the hit TV show Saturday Night Live, where the musical guest was Aretha Franklin.
Below are some of her other media accomplishments:
In addition to these, the 30 for 30 documentaries titled The Price of Gold, which described the 1994 attack, was aired in 2014. That same year, NBC aired a documentary titled Nancy & Tonya, which aired during the Olympics. Kerrigan has also written a book titled Artistry on Ice, which describes advanced figure-skating techniques.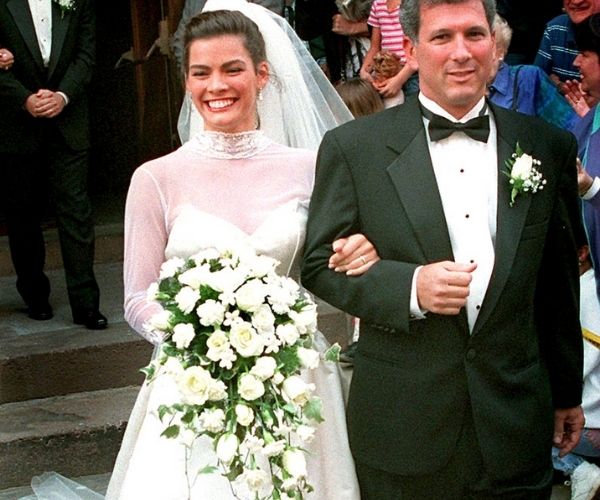 Life has thrown Nancy Kerrigan a few curveballs. When she was a child, she and her two brothers were riding in the car with her mother when Brenda Kerrigan's eyes started to blur. Unbeknownst to all of them, she had contracted a very rare virus that destroyed her eyesight.
Today, she is completely blind in one eye and sees only a small amount in the other eye. Nancy was only around one year old when this happened, so her mother has been blind most of her life.
In fact, when Kerrigan is skating, her mother has to watch her behind the scenes on a television monitor. Still, her mother is grateful for that and even today considers herself her daughter's biggest fan.
Indeed, between her father's death, her brother's assault-and-battery conviction, her miscarriages, and her attack on the ice, Kerrigan have had her share of suffering. Still, the young woman is strong and self-confident, and there is no doubt that she will always land on her feet, both now and in the future.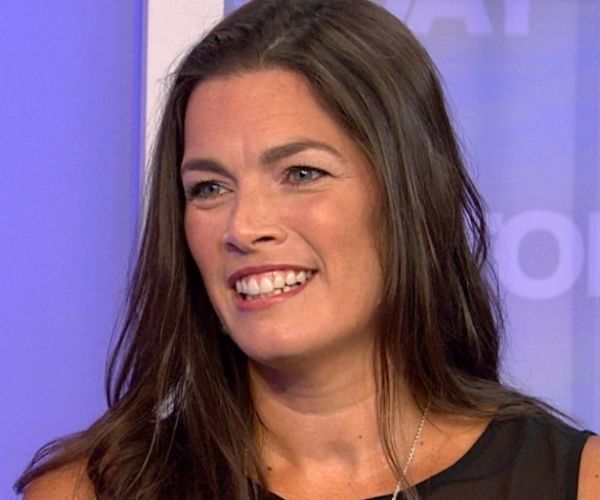 In December of 2018, the movie I, Tonya, was released, detailing the life of Tonya Harding, including the attack on Kerrigan. In many ways, it caused Kerrigan to relive that attack all over again. In fact, many fans have wondered why Hollywood has concentrated so much on Harding and not Kerrigan, considering that she was the one who was attacked and suffered so much.
In a 2014 interview with USA Today Sports, Kerrigan maintained that she never looks back on the bad times but instead tries to move forward with her life. She says that she only looks back when someone forces her to do so, such as when an article is printed, or a documentary is aired regarding the attack, claiming, "Otherwise, why would I? I was attacked." It is clear that Kerrigan is ready to move on from that tumultuous event.
Kerrigan has also shared her story about her many miscarriages, hoping to put an end to the stigma that is often attached to the topic. She had all of her miscarriages after her oldest son was born in 1996 and she and her husband had to go through in vitro fertilization in order to have their second son and their daughter. This is yet another way in which Kerrigan gives back to others and how she uses her celebrity to improve other people's lives.
Kerrigan is also active on social media, including Twitter, where she has over 8300 followers. There, she shares with her followers' details about her personal and professional lives, including many photographs and videos of her family and children, her latest media appearances, and some of the many things that are of interest to her.