Full name: Debby Clark
Net Worth: Over $3 Million
Occupation: Businesswoman
Birthday: 1955
Birthplace: Nashville, Tennessee
Birth Sign: Unrevealed
Spouse: Divorced, ex-wife of NFL coach Bill Belichick
Kids: Stephen, Brian, and Amanda Belichick
Nashville born Debby Clark is a 67 year old businesswoman who is best known for being the long-time ex-wife of the famous and longest-running head coach of the New England Patriots Bill Belichick.
The couple parted in 2006, after separating in 2004 due to Bill Belichick's alleged affair with a younger woman.
The NFL coach had carried on an affair with Sharon Shenocca, a former receptionist of the New York Giants.
If you want to find out more about Debby Clark's early years, her marriage to Bill Belichick, her current whereabouts, and the controversy surrounding her divorce, then read on.
Very little is known about Debby Clark's childhood and her parents and family.
She was born in 1955 in Nashville, Tennessee. She went to Wesleyan University where she met young Bill, who was in the football and lacrosse teams.
The two became close, and started a relationship while in college.
Debby and Bill got married in 1977, and had three children – Stephen, Brian and Amanda.
While Bill pursued a career in professional coaching, Debby left her career behind to become a stay at home mother of their kids.
Bill Belichick started his coaching career in 1975. He managed to rise in rank quickly, and just 10 years later was appointed as the defensive coordinator for the New York Giants, who were then coached by Bill Parcells.
The team then proceeded to win two Super Bowls (XXI and XXV).
After Bill left the New York Giants, in 1991 he became the head coach of the Cleveland Browns.
He remained at this position for five seasons. After that he got back with Bill Parcells and trained the New England Patriots, and eventually led the team to the Super Bowl.
In 2000, Bill Belichick was appointed as head coach of the New York Jets, but resigned after only one day at the job. The reason was that he was offered the head coaching position with the New England Patriots.
Since then, Belichick has helped the NFL team win 15 AFC East Division titles, 8 Super Bowl appearances of which the New England Patriots won 5, and 12 AFC Championship appearances.
Belichick has been named AP Head Coach of the Year 3 times, and is the longest-tenured running active head coach in the history of the league.
After nearly 30 years of marriage, in 2006 it was announced that Debby and Bill had divorced.
Initially, no reasons for the divorce were revealed. But eventually, it became clear that the couple had separated back in 2004.
As it turned out, the reason was that Bill had begun an extramarital affair with Sharon Shenocca, who worked for the New York Giants as a receptionist.
Reports showed that Bill had sent his lover $5,000 per month, and has also bought her a $2.2 million Park Slope twin house. At the time, Shenocca was also married.
Ironically, after the divorce, the affair of Bill Belichick came to an end too.
Following the separation, Bill was spotted with Linda Holiiday several times before the Super Bowl XLII.
They met at a Florida nightclub in 2017.
The couple has been together ever since, and have been seen at public events together.
As for Debby, there is no information on whether she is in a new relationship now.
Today, Bill and Debby reportedly keep in touch, and get together with their children for family celebrations and holidays.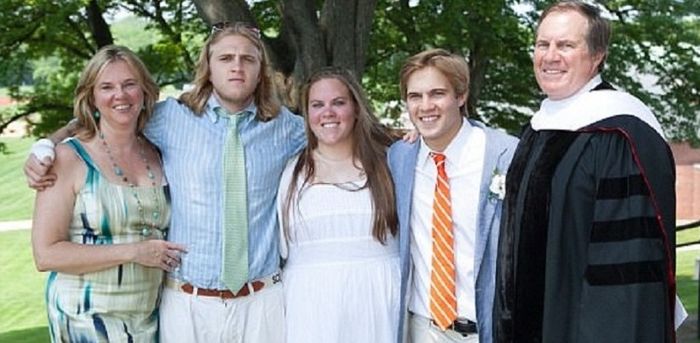 Amanda also pursued a coaching career of the lacrosse team at Rosemary Hall preparatory school, where she worked as an administrator as well.
In 2009 she started working as assistant coach of the Amherst lacrosse team for women at the University of Massachusetts. In 2010 she took the same position with the Ohio State Buckeyes team.
Since 2015, she has been head coach of the lacrosse team at Holy Cross College in Massachusetts.
Stephen Belichick played lacrosse and football at Rutgers University. Following graduation in 2012, he was appointed as assistant coach of the New England Patriots, and was promoted to safeties coach 4 years later.
The youngest son Brian played lacrosse in Trinity College, and after graduating was also hired as a scouting assistant with the New England Patriots, alongside his father and older brother.
In 2018, rumors that Debby Clark had passed away began circulating. These rumors were quickly addressed as false by Debby herself on social media.
Debby is alive and well, and is focusing on her business.
The estimates of Debby Clark's net worth from last year are about $3 million which she has earned through her tile and design business.
Also, she has probably added significant assets to her income following her divorce with Bill Belichick, who has an estimated net worth of $35 million.
Body Measurement
Debby Clarke Belichick has a height of 5 feet 5 inches (Meters- 1.65 m). She is  58 kg (In pounds- 127 lbs).
Debby Clark runs a successful tile business, which can be seen from her business Instagram account.
She most probably used part of her divorce settlement money to start up her business once again.
She owns "The Art of Tile and Stone" tile and design store based in Massachusetts, and her online sales are doing very well.
Debby Clark does not have any personal social media profiles, pages or accounts, so how her personal life is going is not clear.
Hopefully, she has managed to get over the divorce, and lives as a happy and independent business woman with three successful grown up children today.