Full name:

Jade Logue

Actual Name:

Arlo Logue

Net Worth:

$1 Million – $3 Million

Birthday:

March 25, 2001

Birthplace:

Brooklyn, New York

Birth Sign: Aries
Spouse: Single
Name of Father: Donal Logue
Name of Mother: Kasey Walker
Jade Logue is the transgender daughter of the actor, Donal Logue, who played the role of detective Harvey Bullock in the series, Gotham. Jade was born in Brooklyn, New York, on March 25, 2001, as Arlo Logue. The recent disappearance of Jade has led to a widespread search by her father, and this has made headlines recently.
Jade is the child of Donal Logue and his ex-wife Kasey Walker. She is the younger child of the two children before Donal and Kasey divorced. It is reported that Jade had quite a happy childhood, and she was raised in a very loving and supportive environment, although there is not a lot of information about her childhood. Jade has a very close relationship with her brother Finn and her parents.
Although Jade was born as a boy, while growing up, she identified herself more like a girl. Donal and Kasey knew about Jade's gender identity and supported her decision of undergoing the process of transition from a boy to a girl, and this was when she changed her name from Arlo to Jade. When Jade was 15 years old, she made a public declaration of being transgender. While she was aware that her declaration would invite a lot of criticism and bullying, Jade discovered that she received a lot of support from the community too.
While Jade does not have any claim to fame, except that she is the daughter of Donal Logue, her transgender status made her life quite difficult. She was bullied in school often and lived with the fear of being assaulted for living her truth.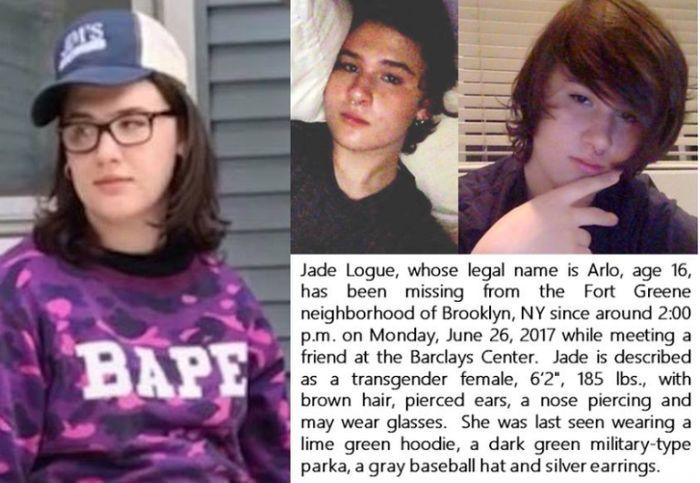 In the year 2017, Jade never came back home one day after she went out to meet a friend. Unable to contact Jade and not able to find her whereabouts, Donal posted a tweet stating that Jade was missing, but had not run away. Later, Donal deleted his tweet and approached the police for help to find her. He also launched a public appeal to help find Jade.
Later, the National Center for Missing and Exploited Children and the FBI also got involved in the search for Jade. Donal then went online and clarified that Jade was missing, when questions arose whether she was actually missing or had just run away from home. Donal kept posting photos of Jade and earnest messages on various social media sites.
Kasey, Jade's mother, also posted her appeal on social media begging for Jade's safe return, and soon, other celebrities also began helping Jade's parents by posting their own messages of support and also to help to spread the word. Actors including Mark Ruffalo, Olivia Wilde, and Danny Trejo joined in Donal's search for Jade. With the objective of raising awareness about Jade and to encourage people to volunteer if they had any information about her, actor Danny Trejo even made a video about Jade.
Jade was found 2 weeks later 400 miles away from her home in North Carolina and was returned to her parents. However, there was no clarity about how or why she landed up there or if she had indeed run away from home. On finding Jade, Donal thanked all the organizations and supported who helped him in his search for Jade.
Not much is known about Jade's personal life or her relationships. Jade does not have an online presence, and she is not very active on social media websites. Although she has a Twitter account, she is not very active on it, and it has not been updated recently. Jade's social activity also decreased significantly after her disappearance, which attracted plenty of media attention.
Height and Weight
Her weight is approximately 60 kg, and her height is around 5 feet 10 inches (177 cm) (132 lbs). She has truly stunning looks, and she is also lovely. She also takes a morning walk as part of their daily routine.
Jade Logue is a strong woman with an enterprising spirit and is involved in several endeavors and activities that ensure that she has a steady income. According to sources, as of 21, Jade's net worth is estimated to be from one to three million dollars , and her wealth is mainly supported by her father, who has an estimated net worth of over $30 million.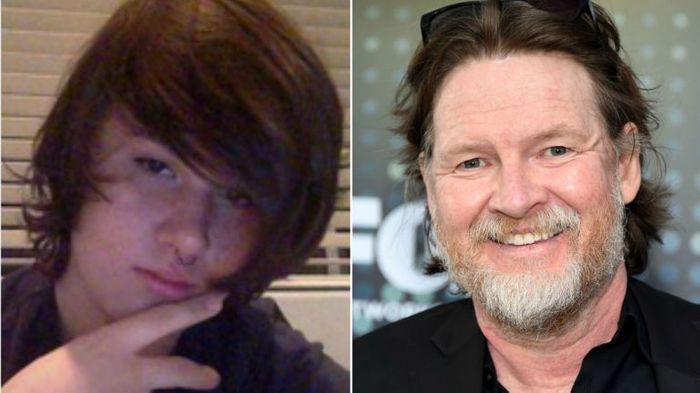 Donal Logue, Jade's father, is a popular actor, who started his career in films in the 1990s. He made an appearance in many projects, before his guest appearance on the television show, The X Files. Over the years, he played more prominent roles in films such as The Patriot and Blade. Donal won the Special Grand Jury Prize for Best Actor at the Sundance Film Festival in 2000 for the lead role in the movie, The Tao of Steve.
Donal featured in Grounded for Life, a critically acclaimed comedy and also starred on the show, ER. He also made a guest appearance on the show, House, M.D. Donal has worked in films such as Ghost Rider, where he co-starred along with Nicholas Cage and Zodiac. He featured as the main character in the series, Terriers, which was canceled because of low ratings. Donal then starred in the show, Sons of Anarchy, where he played the role of Lee Toric, a former US Marshal.
He featured in the series, Vikings and then played the role of General Brendan Donovan in the show, Copper. Some of Donal Logue's other roles include a role in 6 episodes of Law & Order: Special Victims Unit and he also starred in the lead role in Gotham, the series based on the DC Comics universe of the Batman franchise.