General Facts and Figures
Full name: Samuel Burl Kinison
Net Worth: $800,000
Occupation: Comedian and actor
Birthday: December 8, 1953
Date of Death: April 10, 1992
Birthplace: Yakima, Washington
Place of Death: Needles, California
Education: East Peoria Community High School and Pinecrest Bible Training Center
Birth Sign: Sagittarius
Spouse: Patricia Adkins from 1975 to 1980, Terry Marze from 1981 to 1989, and Malika Kinison from April 5–10 to 1992 (his death)
Kinison was born on December 8, 1953, in Yakima, Washington, and was a famous comedian and actor. His intense comic performances wowed and stunned his audiences in equal measure. Kinison's comedy was controversial, and no topics were forbidden for him.
The hallmark of all of Kinison's performances was his acerbic wit that was punctuated by his distinctive scream. Kinison claimed to People magazine that he was considered "triple X-rated" by people, and he was "not an ideal role model" for the impressionable youth.
Sam Kinison's father was a preacher, and most of Sam's childhood was spent in Illinois. A truck hit Sam when he was 3 years old, and he suffered from minor brain damage. When he was 12 years old, his parents got a divorce, which caused him further trauma.
While Sam's older brothers Bill and Richard went to stay with their father, Sam and Kevin, his younger brother, remained with their mom.
As a child, Sam did not like to go to school, and as a teen, he was very rebellious. He cut classes and was involved in several instances of shoplifting. When Sam was 15 years old, he was sent to Pinecrest Bible Training Center, a religious school in New York.
During this time, Sam discovered his love for music and learned to play the guitar. Kinison then returned from school and spent time traveling around.
Sam decided that he wanted to be a preacher like his dad when his father died in 1972. At this time, his older brothers had already become preachers, and during their sermons, Kinison often played music. Even while he took religion seriously, Sam had an excellent sense of humor, and he was a huge fan of Richard Pryor.
When he was 21 years old, Kinison married; however, the marriage was unhappy and ended soon. Kinison continued preaching in Chicago in 1997, but decided to give up his calling as a preacher to follow his "comedy dream."
He attended a workshop on comedy in Houston and decided to stay there. He became among the best stand-up comedians in the city by 1979. He also performed often at the Comedy Annex.
Kinison was named the "Funniest Man in Texas" twice by the Dallas Morning News, and in 1980, he moved to Los Angeles to further his career in comedy. However, Sam found that getting a break was very difficult, and he struggled for many years. In the beginning, Kinison gave free performances, and then he started appearing regularly at the Comedy Store.
He then met other comics, such as Jim Carrey and Robin Williams. It was during this time that he got married for the second time to Terry Marrs but separated after two years and then later got divorced in 1989.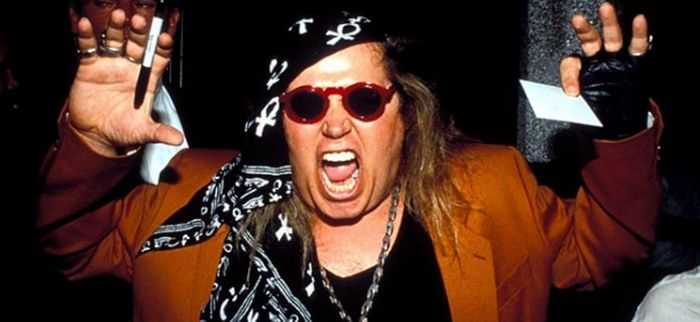 Sam Kinison's first break came in the form of a program on Rodney Dangerfield's comedy showcase on HBO. In 1985, the special showcased Kinison sharing his comic views and rants about world hunger and marriage.
The program became a huge hit because the audience had never ever seen a comic with razor-sharp humor like Kinison before. And soon, Kinison started appearing in popular shows such as Late Night with David Letterman and Saturday Night Live.
Kinison then released his album, Louder than Hell in the following year, which was quite successful. He also played a small role as a history professor in the comedy film by Rodney Dangerfield, Back to School.
Kinison's film career did not really take off after Back to School; however, his HBO special, Sam Kinison: Breaking the Rules in 1987 on television did quite well.
Kinison's brash comedy style led him into trouble with the censors. In 1986, Kinison was warned by the censors to avoid routines on religion and war on drugs before he made his appearance on Saturday Night Live.
However, Kinison ignored the warnings and was then banned from Saturday Night Live by the producer Lorne Michaels after his remarks caused a lot of stir. The decision was reversed later when the TV network was flooded with calls and letters from Kinison's fans.
Kinison became quite renowned for his lifestyle full of hard-partying, excessive drinking and use of drugs. Kinison was quite the ladies' man, and over the years, he had several affairs with Penny Marshall, Beverly D'Angelo and Jessica Hahn. Kinison also had fights with his contemporaries, including Whoopi Goldberg, Bobcat Goldthwait, etc.
Kinison's love for music led him to combine rock 'n' roll with comedy and in 1988, his cover of Wild Thing by the Troggs was a big hit. Kinison also got a Grammy nomination for his album, Have You Seen Me Lately?.
Kinison's comedy was not very popular with all and people were rather turned off by the crude and crass style of comedy, while others protested against topics that he chose. People found his jokes about women offensive, while his jokes about AIDS caused a lot of controversies.
And, while a few of his shows were picketed, he also received many death threats. In 1988, Kinison faced a personal tragedy when Kevin, his younger brother committed suicide.
Kinison's personal life was fraught with difficulties, and in 1990, he was in several car crashes due to driving while intoxicated. Malika Souiri, Kinison's girlfriend, was raped in their home. Souiri used Kinison's gun to shoot her attacker many times while Kinison was passed out, oblivious to the happenings.
While Kinison never completely gave up drinking and using drugs, he did reduce his offensive behavior and even join Alcoholics Anonymous. Kinison's guest role on the show Married with Children earned excellent ratings, and he began negotiations with Fox TV for his own show.
In 1991, he starred in Charlie Hoover as the animated alter ego of an accountant. The show lasted only for a couple of months. Kinison was in the midst of negotiations with New Line Cinema for a 2-film deal when his acting career ended tragically.
In 1992, Sam Kinison got married to Malika Souiri, his longtime girlfriend in Las Vegas. After their honeymoon, the couple left for Laughlin, and when they were near Los Angeles, a pickup truck hit Kinison's car. Kinison succumbed to his injuries when all efforts to revive him were unsuccessful.
One of America's most unique comedians died tragically at the age of 38. Despite all the criticism of Kinison's brand of comedy, it cannot be denied that he broke new ground in the world of comedy.
Rumors
Sam Kinison's longtime friend revealed that he recently discovered DNA evidence proving the late comedian fathered a daughter with his ex-wife. He expressed his hope that the information would exonerate him from years of unpaid child support fines.
In February 2011, the Toronto Sun reported that Kinison had a child with the wife of his best friend and opening act, Carl LaBove. LaBove had been paying child support for the girl for almost 13 years. LaBove said in court papers that Kinison was the father of the girl, and DNA tests done on Kinison's brother Bill show that Kinison is 99.8% likely to be the father of the unnamed woman.