Full name:

Carol Wayne

Net Worth:

$2 million

Occupation: Actress
Birthday:

September 06, 1942

Date of Death:

January 13, 1985 

Birthplace:

Chicago, Illinois, United States

Birth Sign: Virgo
Spouse: Loreto Cera from 1965 to 1967, Barry Feinstein from 1969 to 1974, Burt Sugarman from 1975 to 1980
Carol Wayne was an American actress who appeared in multiple movies and TV series. Known widely for her exuberant nature and outgoing personality, Carol sadly passed away at a young age of 43 under mysterious circumstances in 1985.
Her death remains a mystery even today since there was no evidence of any alcohol or narcotics in her system in the postmortem report. Let's take a look at the highs and lows of her career and personal life that was more often than not in the limelight for various reasons.
Carol was born in the city of Chicago, Illinois, in the United States on September 6th in 1942. She started her career in the entertainment industry at an early age when she joined the Ice Capades as a teenage figure skater. She was accompanied by her younger sister Nina Wayne who also entered the show business with Carol.
The sisters began making their presence known when they took the role of showgirls at Folies Bergere, a cabaret music hall, in the Tropicana Resort & Casino in Las Vegas. Both Carol and Nina were huge hits in the Nevada circle and made their way to limelight through their stint as showgirls.
Surprisingly, Nina was the first Wayne to move to Hollywood in pursuit of acting roles in the mid-1960s. Carol followed soon after and both began to look for roles in the entertainment industry. Their efforts led them to successfully audition for multiple TV shows.
According to Carol, she was first discovered at an understated and inconspicuous Hollywood party. At the time, Carol was performing as a chorus girl in the Las Vegas show business circles. Soon after being put into the limelight at the party, Carol auditioned for The Tonight Show. She was successful in her audition and the role turned out to be one of her most famous appearances as an entertainer, one which she is still remembered for.
Carol appeared in over a hundred episodes of The Tonight Show from 1971 to 1984. She perfected her role as The Matinee Lady on The Tonight Show with Johnny Carson. Her character, The Matinee Lady, was a ditzy and plump lady that appeared on The Tonight Show's popular Art Fern's Tea Time Movie sketches. The show was brimming with sexual innuendos.
Carol had become so resonant with her character that no one could think about any other actor playing the role of The Matinee Lady. Johnny Carson even put the character off the air for a year after Carol passed away. However, as they say, the show must go on, and so, Johnny Carson cast Danuta Wesley as his next Matinee Lady, which was followed by Teresa Ganzel.
The Tonight Show provided Carol with a quantum leap in her popularity and she garnered multiple roles during her stint with Johnny Carson. Carol appeared in various game shows like Mantrap and Hollywood Squares. She also appeared frequently as a member of the panel in Celebrity Sweepstakes.
Carol also did multiple movies during her tenure as an actress. She was seen playing diverse characters in films like Gunn, Surf II, Scavenger Hunt, Savannah Smiles and others. Just a year before she passed, she appeared for last time in movies with her role in the feature Heartbreakers, released in 1984.
Carol's last stint came in the form of her appearance in The Tonight Show with Johnny Carson on January 1984, exactly a year before her death. In one of her boldest acts, she posed nude for the Playboy magazine in the same year. Coincidentally, 1984 was also the year when Carol went insolvent and officially filed for bankruptcy.
The downfall of Carol Wayne is best judged to be the cause of the reduction in her onscreen time in The Tonight Show as Johnny Carson reduced the show timing to 60 minutes from 90 minutes.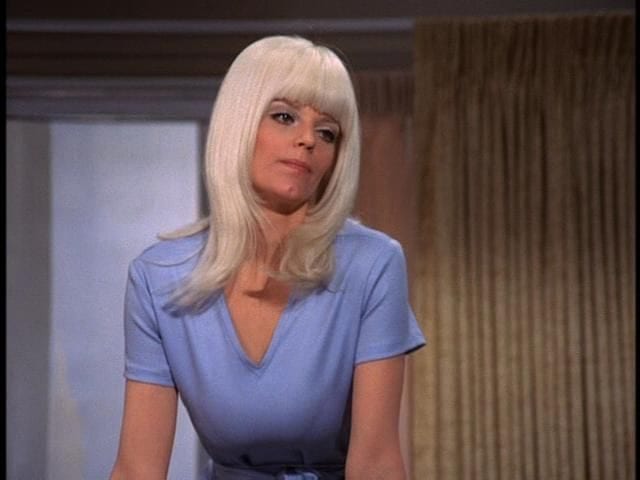 Carol married soon again in 1969. Her second husband was a rock and roll photographer, Barry Feinstein. She gave birth to a son in 1970 with Barry, but that marriage didn't last either and the couple divorced in 1974. Her third husband, whom she married in 1975, again just a year after her second divorce, was Burt Sugarman, a popular television and film producer in the industry. He was also one of the producers on the show Celebrity Sweepstakes in which Carol served as a guest panelist.
Burt Sugarman was also the last husband of Carol Wayne. She divorced him in 1980 and didn't marry again.
Height and weight of Carol Wayne
Carol Wayne is claimed to have been molded for Hollywood from birth. She is a tall woman with a height of 5 feet, 9 inches, or 175 centimeters if measured in centimeters. Carol Wayne is estimated to weigh 67 kg, or around 148 lbs, in pounds. She is incredibly tall and has an hourglass figure. She is a beautiful and gifted actress.
Carol Wayne passed away in January 1985 under very mysterious circumstances. She was on vacation in Santiago Bay in Mexico with her then partner Edward Durston. They were staying at the Las Hadas Resort in Manzanillo, Colima. Carol is reported to have gone for a walk on the beach after a heated argument with her boyfriend.
However, she never returned from the walk and was reported missing when there was no sign of her for two days. On the third day of her disappearance, her body was found by a local on the beach.
Carol's death was one of the most talked about cases since there was no trace of any intoxicant in her body at the time of death. No reason was attributed to her passing away, and ultimately, the investigation labeled her death as an accident.
Carol Wayne left a prominent impression on the industry with her vivaciousness and still remains an integral part of the show business.