General facts and figures
Full name: Arnold Alois Schwarzenegger
Net Worth: between $400 and $800 million
Occupation: bodybuilder, movie star, governor, businessman
Birthday: July 30, 1947
Birthplace: Thal, Styria near Graz, Austria
Birth Sign: Leo
Spouse: Divorced since 2011 from Maria Shriver
Born in a small town in Austria in 1947, Arnold Schwarzenegger first became popular as a bodybuilder, and after moving to the US became one of the most recognizable and popular action stars in Hollywood with roles in hits like The Terminator, Conan the Barbarian, Total Recall and many more. Later on in life, he pursued a political career and became the Governor of California, better known as "the Governator."
After leaving office in 2011, Schwarzenegger returned to the big screen and starred in The Expendables as well as in return to the classic Terminator series.
As a bodybuilder, Arnold Schwarzenegger won the biggest competitions – Mr. Olympia 7 times, and Mr. Universe 5 times. He won his first Mr. Universe title at the age of only 20.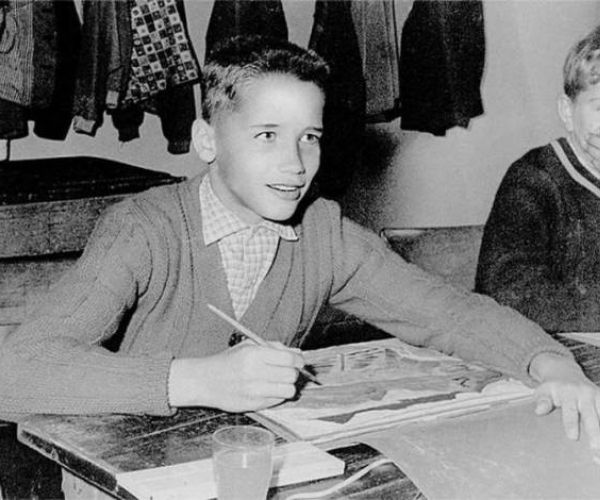 Born in Thal, near the town of Graz in Austria on July 30th, 1947, Arnold Alois Schwarzenegger did not have a very happy childhood. His father, Gustav Schwarzenegger, who was once a member of the Nazi Party and currently a Police chief and alcoholic, showed a preference for Schwarzenegger's older brother Meinhard and reportedly beat and intimidated his younger son, ridiculing his dreams to become a famous bodybuilder.
Both Gustav and his wife Aurelia were very strict parents who punished their children and regularly attended Mass as devout Catholics.
The communication between them was so bad that when in 1972, Gustav died from a stroke, and in 1971 when his older brother was killed in a car crash, Arnold refused to attend either of their funerals.
As a schoolboy, Schwarzenegger was an average student but was recognized as a cheerful, exuberant, and good-humored boy by his classmates and teachers.
His childhood was quite poor, but young Arnold got involved in sports early on in his life, mostly influenced by his father. He first began training soccer, but at the age of 14, he chose bodybuilding instead. At 14, he began training Olympic lifting with Dan Farmer, and at 15, he studies psychology to find out more about the power of the mind over the body, according to his biography posted on his official website.
At 17, Schwarzenegger began competing, and at the age of 18, he joined the Austrian Army to serve his required 1-year service. While he was in the army, the young Schwarzenegger won his first Junior Mr. Europe bodybuilding contest. Because he went AWOL in order to take part in the competition, the young man had to spend a week in military prison.
During the next competitions he took part in, Schwarzenegger was voted the "best-built man in Europe," and immediately became a popular figure among the bodybuilding community.
His first competition abroad was in 1966 in London, where he came in second at the NABBA Mr. Universe competition after the US winner Chester Yorton.
In 1967 with the help of Charles Bennett and his friend and mentor Reg Park, Schwarzenegger became the youngest ever winner of the Mr. Universe title at the age of 20. The next year, he won the title again and proceeded to win it another 3 times.
In 1968, Schwarzenegger finally fulfilled his dream to move to the US.  At the age of 21, he went on to live and train at Gold's Gym in Venice LA, under the supervision of the "Father of bodybuilding" Joe Weider.
Because of alleged violations with his visa, Schwarzenegger, later on, became known as the most famous illegal immigrant in the USA.
In 1977, his autobiography and training guide book was published, titled Arnold: The Education of a Bodybuilder. The book became a huge success. Meanwhile, he studied English at Santa Monica College and earned his bachelor's degree in International marketing of fitness and business administration from the University of Wisconsin-Superior in 1979. He got US citizenship in 1983.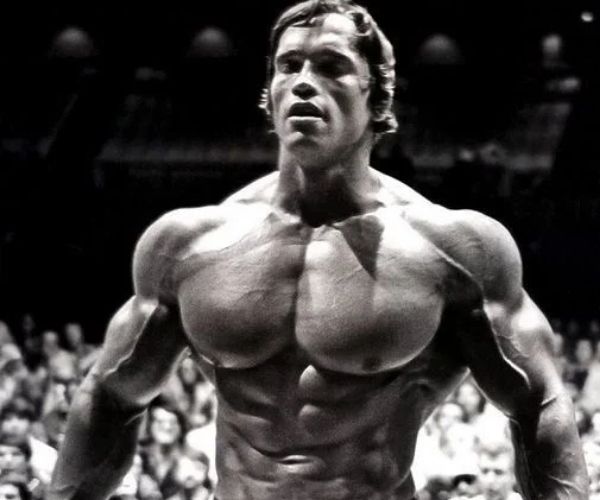 Today, Arnold Schwarzenegger is still considered to be one of the most important and most successful figures in bodybuilding. Throughout his career as a bodybuilder, he won an unprecedented number of first prizes, including seven Mr. Olympia and five Mr. Universe crowns. This record was broken by Lee Haney in 1991 when he won his 9th Mr. Olympia title.
He is widely recognized as the man who propelled bodybuilding into the mainstream, especially after the Pumping Iron documentary about his Mr. Olympia crown defense was released in 1977.
Today, he still owns fitness magazines and gyms and often presides at numerous contests and awards.
Schwarzenegger wrote monthly columns in Flex and Muscle & Fitness magazines and was later appointed as a symbolic executive editor of both magazines. He later relinquished the title in 2005 after it became public that both magazines had donated at least 1 million USD for his political office per year. In 2013, he restored his executive editor title.
The first major bodybuilding competition he won was at the age of 18 and was the Junior Mr. Europe contest. At 19, he won Mr. Europe, and at the age of 20, he became the youngest winner of the Mr. Universe contest, and at the age of 23, became the youngest winner of the Mr. Olympia contest.
During his active sports career, Schwarzenegger also participated in several Olympic weightlifting and powerlifting contests. He won two of each in the years between 1964 and 1968. He even won a stone lifting contest in Munich in 1967, where he lifted a stone weighing 560 lbs.
During his competitive years, the body measurements and stats of Schwarzenegger were truly impressive:
In 1975, Arnold Schwarzenegger announced that he was retiring from bodybuilding after taking part in his last Mr. Olympia contest and proceeding to win it yet again. His training for this contest was the basis of the famous Pumping Iron documentary.
In 1980 he surprised everybody by entering the Mr. Olympia contest once again. He had been training to get in perfect form for his role in Conan, so he decided to compete in the contest after only 7 weeks of training. Surprising, all with his appearance and his perfect form, Schwarzenegger won his 7th and last Mr. Olympia title then.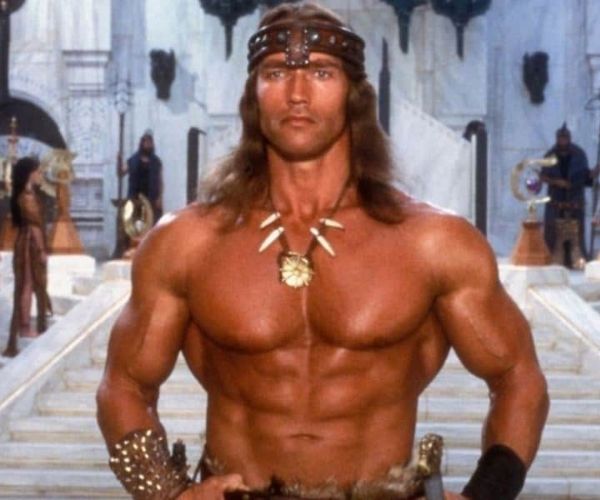 It had been his dream since very young to become an actor, so when in 1969 he was chosen to play Hercules in Hercules in New York, it was a dream come true for the Austrian born bodybuilder. During that time, his German accent was so thick that the producers dubbed over his voice in the movie.
In 1973, Schwarzenegger appeared in The Long Goodbye as a deaf and mute mob hitman. In 1976 he got his first significant role in Stay Hungry for which he won the New Star of the Year award at the Golden Globes.
According to his memories, starting his career in acting was pretty difficult for Schwarzenegger due to his specific body, his long name, and his heavy accent.
In 1975 his popularity was boosted by the Pumping Iron documentary with dramatic moments. He then guest-starred in several sitcoms. In 1979, he starred alongside Kirk Douglass in The Villain, and in 1980 he played the husband of actress Jayne Mansfield in a biographical film about her.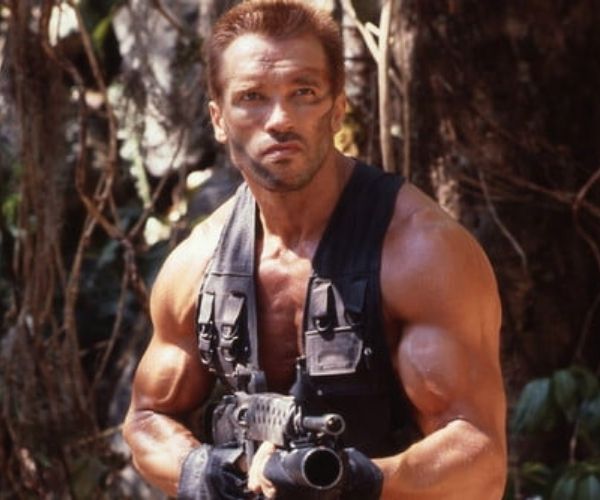 Becoming the best bodybuilder in the world was one of the dreams of Arnold Schwarzenegger. The other was to move to the US and become a famous Hollywood movie star.
All of these dreams came true for him pretty soon after he immigrated to the USA.
After the smaller early parts he received, Arnold Schwarzenegger received a Golden Globe for his role in Stay Hungry in 1976 as the best new star for the year.
Due to his sculpted huge body and his incredible strength as well as his popularity as a bodybuilding champion, it was only natural that Schwarzenegger became a sough for action actor.
He became the leading figure in some of the most famous action movies of all times, including Conan the Barbarian in 1982, Conan the Destroyer in 1984, and played the deadly machine in The Terminator in 1984. He was also the main hero of the sequels – Terminator 2: Judgment Day and Terminator 3: Rise of the Machines, Terminator Genisys in 2015, and is appearing in the upcoming Terminator: Dark Fate movie released in 2019.
Alongside the brutal action roles, Schwarzenegger also starred in a number of top-rated comedies, including Twins in1988 and Kindergarten Cop in 1990.
The 1980s became popular with the action movies made, and it was then when both Schwarzenegger and Sylvester Stallone gained huge popularity as action stars.
These memorable roles established Arnold Schwarzenegger as a leading action film icon on a worldwide basis.
His action acting peak came in 1991 when Terminator 2: Judgment Day became the highest-grossing movie of the year.
In 1993 he was named the "International Star of the Decade" by the National Association of Theater Owners.
In 1997 he played the villain, Mr. Freeze, in Batman & Robin, which though turned out to be a critical failure. Schwarzenegger returned to the big screen in End of the Days in 1999, followed by The 6th Day in 2000 and Collateral Damage in 2002. In 2003, he returned to his iconic role of the Terminator in the third sequel Terminator 3: Rise of the Machines, which earned more than 150 million USD in the US (today the equivalent is $204 million).
When in 2002, the Forum Stadtpark offered to build an 80ft. statue of the Terminator in the center of Graz, Austria, Schwarzenegger claimed that he was flattered but requested that the money be used on the Special Olympics or other social projects instead.
After dating a few women when he first came to the USA, Arnold Schwarzenegger continued building the American dream and married into the famous Kennedy family. In 1986, he married TV journalist Maria Owings Shriver who is the daughter of Eunice Kennedy Shriver.
The couple has four children: Katherine (1989), Christina (1991), Patrick (1993) and Christopher (1997).
Patrick has followed his father's footsteps and has pursued an acting career as well.
In 2011 in a high profile split, the couple separated. The reason was that it became evident that Schwarzenegger had impregnated an employee in the family's household (Mildred Patricia "Patty" Baena), and had a 14-year-old son at the time. The Guatemalan housekeeper had been pregnant at the same time as Maria Shriver was pregnant with the couple's fourth child in 1997.
In 2017 the divorce between the two was finalized.
It was during the scandal when actress Brigitte Nielsen came out with the claim that she had had an affair with Schwarzenegger during his marriage with Maria Shriver as well.
Several other women have claimed that Schwarzenegger has behaved inappropriately with them over the years.
Since 2015, Schwarzenegger has been dating Heather Milligan, a physical therapist who is 27 years his junior.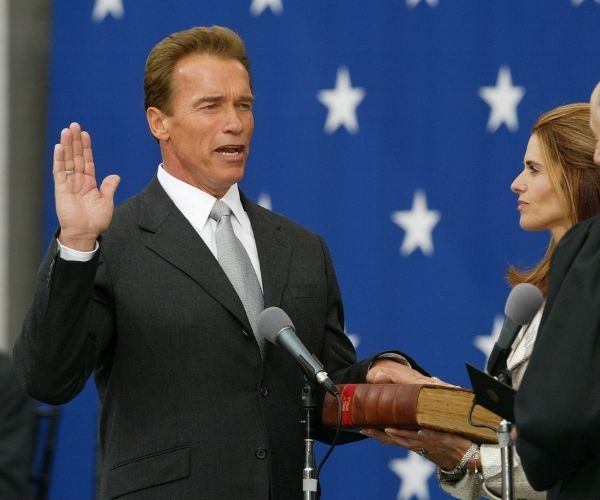 After becoming the best bodybuilder in the world and one of the most famous action stars, Arnold Schwarzenegger pursued yet another goal he had set earlier on – a political career.
Crediting President Ronald Reagan as his personal inspiration, Schwarzenegger took part in the California governor's race in 2003 and easily won it.
During his first mandate as governor, Schwarzenegger worked on improving the economy and business in the state, as well as to protect the environment.
In 2006 he won the re-election with ease.
He had immigrated to the USA during the presidency of Ronald Reagan and voted for him as soon as he received citizenship.
He also starred in a "Stop the Madness" anti-drug video sponsored by the Reagan administration in 1985.
He also accompanied Vice President George H.W. Bush in his campaign rally in 1988.
Arnold Schwarzenegger had been a registered Republican for years before going for the governor post in California. His political views have often been contrasting to those of the majority of other Hollywood stars who mostly support the Democrats.
He later claimed that he was inspired to become a Republican after listening to Richard Nixon's viewpoint against Humphrey in the presidential race in 1968.
His first political appointment was as Chairman of the George H.W. Bush Council on Physical Fitness and Sports from 1990 to 1993 and was dubbed "Conan the Republican" by the President who had nominated him.
Later on, he became Chairman of California's Governor Council of Physical Fitness and Sports.
In 1993-1994 Schwarzenegger was a Red Cross ambassador and promoted blood donations on TV and radio.
In general, Arnold Schwarzenegger is a moderate Republican who considers himself socially liberal. He is pro-choice on the issue of abortion and has performed same-sex marriages as Governor.
His more moderate position became even clearer after he appointed Susan Kennedy, a Democrat as Chief of Staff.
When he announced that he is running for Governor of California on the Tonight Show with Jay Leno, the news quickly spread and became viral worldwide. He was soon dubbed – "The Governator," referring to the Terminator movies, which made him famous.
He didn't accept the governor's salary of $175,000 per annum and worked and lived on his own personal wealth during his mandates as Governor of California.
His second term was not as successful as his first one, and in 2011, he decided to revive his acting career.
Alongside his bodybuilding, acting, and political successes, Arnold Schwarzenegger has been a successful businessman as well.
After arriving in the USA with a few bucks in his pocket, the young man proceeded to become a millionaire by the age of 30 even before he had started his acting career.
He made his money by investing in a series of successful business and ventures including:
Bricklaying – he set this business up with his fellow bodybuilder friend Franco Columbu back in 1968. The partners invested their profits to start a mail-order business offering fitness and bodybuilding related equipment and instructional films.
Investment – Schwarzenegger proceeded to invest his profits from his mail-order business and his competition awards into various investments starting with an apartment building, which he bought for $10,000, and which was followed by investments in different real estate holding companies.
He also was a founding investor in the famous Planet Hollywood chain along with Bruce Willis, Demi Moore, and Sylvester Stallone. He left the venture in 2000.
Advertisements – he also earns a profit from participating in various commercials, including the Machine Zone Mobile Strike game commercials as a commander and as a spokesperson.
Restaurant – he and his wife opened the Schatzi on Main restaurant in Santa Monica in 1992. In 1998 they sold it.
The overall wealth of the bodybuilder turned actor turned governor is estimated at between $400 and $800 million. He has multiple investments, and in 1997 he purchased his own Gulfstream jet for $38 million.
He has shares in an investment firm and is the owner of the annual Arnold's Sports Festival in Columbus, Ohio. Schwarzenegger also owns his own movie production company named Oak Productions Inc. as well as various fitness publications and joint ventures.
In 2010, Arnold Schwarzenegger starred along with Sylvester Stallone, Jet Li, Bruce Willis and Jason Statham in The Expendables. In 2012, the ensemble reunited to shoot a sequel – the Expendables 2. Only a week after its release, the movie reached the number 1 spot at the box office and grossed $28.6 million.
In 2012, his memoir "Total Recall" was published, and it became clear that he had had a relationship with Actress Brigitte Nielsen while he was living with Maria Shriver.
In 2014, The Expendables 3 was released, and in the same year, the actor also shot the Terminator Genisys.
In January 2017, Arnold Schwarzenegger took the place of President Donald Trump on The New Celebrity Apprentice – an NBC reality show. The show had low ratings, so the actor left a few months later.
Arnold and Joseph
When Joseph Baena graduated from college, Arnold Schwarzenegger informed him that he would stop providing financial support and that "you're on your own."
The 74-year-old Terminator actor supported his son's college education, and Joseph expressed his gratitude for this.
Joseph, 24, is a bodybuilder and aspiring actor who has switched to a different line of work to make ends meet.
After completing his studies, he now has a position in real estate that will enable him to support himself. He works at ARIA Properties, a real estate company in Los Angeles.
"I was in need of employment because I was not landing any of the acting parts I had anticipated.