Full name: Kate Abdo
Net Worth: $1,5 Million
Occupation: English Presenter and Sports Journalist
Birthday: September 8, 1981
Birthplace: Manchester, England, United Kingdom
Birth Sign: Virgo
Spouse: Ramtin Abdo
Kate Abdo was born in Manchester, in a sports teacher's family. She studied at Withington Girls' School, an independent day school in Fallowfield.
When Kate was 17 years old, she moved to Spain, where she learned Spanish and earned her high school diploma. A year later, she started a university degree, studying "Translation and Interpreting."
Kate also lived in France and Germany, where she took time out after her degree. Very talented and smart, Kate Giles also graduated from the University of Salford, with a first-class B.A. in European languages. Because she lived in Spain, France, and Germany, Kate is fluent in all three languages.

Abdo's mother and father are sports teachers and huge soccer fans, so she grew up with an enormous affinity for this game. Her father is a Manchester United fan, while her mother supports Liverpool.
About her introduction to sports, Kate spoked with SB Nation.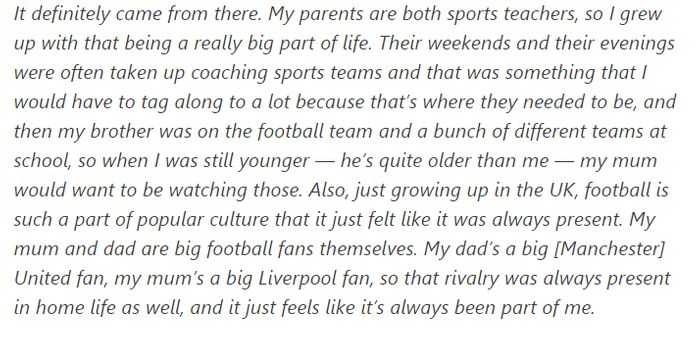 According to the Star-Telegram, Kate lives now in the United States, and because of the great weather, she doesn't want to go back to England. The beautiful sports commentator can speak four languages, but she admits that this could be quite challenging for a woman in a profession dominated by men.

The first steps in her anchoring career are at the CNN World Sports program in London. The "Inside Africa" future show was also hosted by her. After her work with CNN, Abdo goes back to Germany, where she joins Sky Sports News HD. There she was, the public face and the head anchor of the network, heavily involved in developing formats, programs, and network coverage.
Kate Abdo moved to Sky Sports UK, where she hosted Pay Per View Boxing events, European Football, Sports News, and Transfer Deadline.
In 2015, Abdo hosted the coverage of the Women's World Cup for Fox Sports, which led to a permanent offer from the network. Kate relocated to the US and hosted the Fox coverage of the Champions League, Europa League, World Cup, FA Cup, and Bundesliga. She also hosted Fox's Premier Boxing Champions, a regular studio show called "Inside PBC Boxing," and fight night coverage.
When Fox lost the rights to the Champions League to Turner, Abdo left them. She signed a deal with TNT to host their coverage of the Champions League from Turner's Atlanta studios.
Abdo is also well known for hosting the FIFA 2014 Ballon d'Or, the FIFA 2015 Ballon d'Or, and the Laureus Global Sports Awards.
In 2010, Kate married Ramtin Abdo. He is a top German real estate businessman. The couple has been in a relationship for almost a decade with no controversies or rumors of divorce. Moreover, Kate remains with her husband and family, lives a happy family life, and to this date, she has no children. In 2018, Kate shared great news about their new family member, the cute Frenchie.
Body measurements
The tall and attractive journalist is 1.76 meters (5 feet, 8 inches) tall and has a lean and toned figure. Kate's weight is 54 kg, and her measurements are 35-25-36 inches. The reporter also has brown eyes and hair and is smiling seductively.
Hobbies
She enjoys learning languages and traveling in her free time.