General facts and figures
Full name:

Edward Parker Helms

Net Worth:

$20 million

Occupation:

Actor, Singer, Musician, Correspondent

Birthday:

January 24, 1974

Birthplace:

Atlanta, Georgia, United States of America

Birth Sign:

Aquarius

Marital status:

No known wife, girlfriend or children.

Trivia:

Helms gave a convocation speech at

The Office

character Andy Bernard's alma mater — Cornell University — in May 2014.
An actor, correspondent, singer and musician, Ed Helms has donned many hats during his 17-year career in the spotlight. The 45-year old actor has been active on both the small screen and the film industry with his work for The Daily Show, which was followed by him bagging the role of Andy Bernard in Steve Carell's version of The Office. The face behind the character of Dr. Stuart Price in all three The Hangover movies, Helms has also lent his voice to many animated characters, including the character of Captain Underpants in Captain Underpants: The First Epic Movie by Dreamworks Animation.
Early Life
Helms was born on January 24, 1974, in Atlanta, Georgia, where his father — John A. Helms — was a Navy veteran, lawyer, and insurance executive. His mother, Pamela Ann, was a school administrator, and the couple had three children. While Helms was the youngest of these, he has a sister named Susan Carol Helms and a brother named Paxton Helms. When Helms was just 14 years old, he had to undergo open-heart surgery to help correct a murmur, which left a long scar on this chest — something that he has recollected at a number of interviews he has given over the years.
Helms went to the Interlochen Center for the Arts when he was younger, and graduated from The Westminster Schools, a private school in Atlanta, Georgia. At this point, Helms had already been pursuing some acting in high school and learned some instruments as well. He chose to attend Oberlin College in Ohio, where his initial major was geology. He shifted this focus to the cinema, finally graduating with a Bachelor of Arts in film theory and technology in 1996. During the course of his higher education, Helms spent a semester at New York University's Tisch School of the Arts. He also received an honorary doctorate in fine arts from Knox College.
Career Highlights

After graduating from college, Helm moved to New York City to build a life for himself. He started as a video editor and spent his free time doing improv shows and some stand-up comedy, including a stint with the Upright Citizens Brigade troupe. He ended up quitting the world of editing to do some commercial voiceover work after the initial period. This voiceover work is what led to him finding a talent agent and subsequently landing job on the silver screen, starting with a spot as a correspondent at The Daily Show. This was followed by some recurring appearances on popular shows like Arrested Development and Sunday Pants.
He landed the role of Andy Bernard on the American version of The Office, a mockumentary which went on to become one of the most popular shows of its time. During this period, he started making his presence felt on the big screen. He lend his voice to the animated film Everyone's Hero and appearing in films like I'll Believe You and the comedy film Walk Hard: The Dewey Cox Story, directed by Jake Kasdan. After bagging a role in Evan Almighty with his The Office co-star Carell, Helm was spotted in other films like Meet Dave, Semi-Pro, and Lower Learning. It was at this point that Helm picked up the role of Dr. Stuart Price in The Hangover series.
Breakthrough on Television With The Daily Show and The Office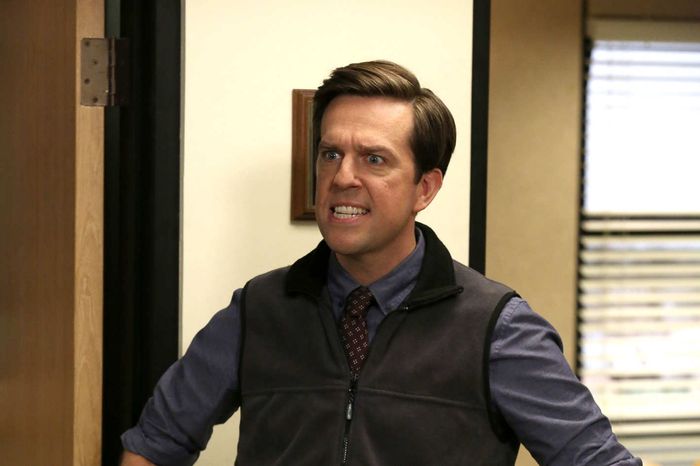 In 2002, Helms made it through a casting audition that got him the position of a correspondent with The Daily Show under Jon Stewart. During his time at the show — between 2002 and 2006 — Helms hosted a number of different segments of the show, including Digital Watch, Ad Nauseam, and Mark Your Calendar. At the same time, he contributed to many field reports that were put together by the show. Even though Helms left the show in 2006, he went on to make multiple special appearances on the show in the years that followed. For example, he came back for the Obama Quest in 2008, where the show covered the then-senator Barack Obama's trip to Iraq. He also worked with The Colbert Report, before being added to the cast of NBC's mockumentary The Office.
The Office was another turning point in Helms' career trajectory, where he played a Cornell graduate who was obsessed with his alma mater and a cappella music. The cast was led by his fellow The Daily Show correspondent, Carell. This Emmy Award-winning show allowed Helms to even showcase his musical side in numerous episodes, where he could be seen singing or playing the banjo. The show ran for nine seasons before ending in 2013.