General Facts and Figures
Full name: Jonathan Daniel Hamm
Net Worth: $45 Million
Occupation: Actor, Television Producer
Birthday: March 10, 1971
Birthplace: St. Louis, Missouri, United States
Birth Sign: Pisces
Spouse: In a relationship with Anna Osceola
Instagram: (fan account)
Twitter: NA
YouTube: NA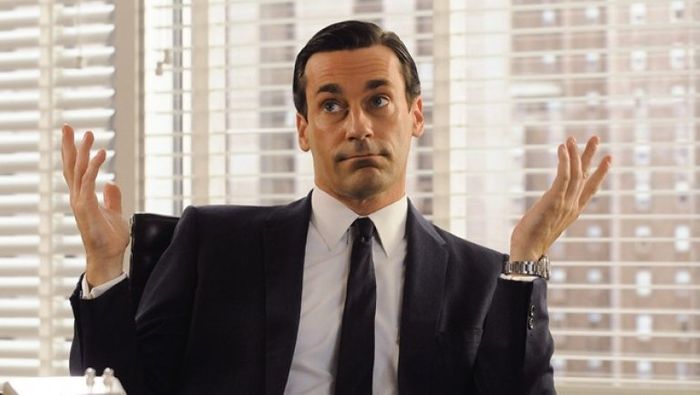 Jonathan Daniel Hamm was born to mother Deborah and father Dan on March 10th, 1971, in St. Louis, Missouri.
His father, Dan, ran a successful truck business, which eventually became declining as Jonathan grew up. He has two step-sisters from his father's previous marriage.
Jon Hamm's parents divorced when he was only 2 years old, and he was raised by his mother until the age of 10 when Deborah passed away from advanced colon cancer. After that, he moved in with his grandmother and father and went to John Burroughs Preparatory School.
At school, the young Hamm was a linebacker on the football team, and also played the lead part of Judas in the school's production of Godspell when he was 16 years old.
Although he received offers to play college football in several Ivy League colleges, Jon Hamm decided to go to the University of Texas. His college years there were short-lived because his grandmother died, and when he became a sophomore, his father also fell sick and soon passed away too. Hamm got into a hazing scandal at his fraternity in college too, which is another reason he decided to leave the University of Texas.
Jon Hamm proceeded to finish school at the University of Missouri, where he earned a bachelor's degree in English in 1993.
During his college years, Jon Hamm was an active participant at his university's theater program and spent two summers in the repertory company of his school.
After graduating in 1993, Hamm started work as a teacher at his former school John Burroughs where he taught drama for two years. He taught numerous students, including Ellie Kemper, who later on became an actress.
During these years, Jon Hamm became friends with actor Paul Rudd.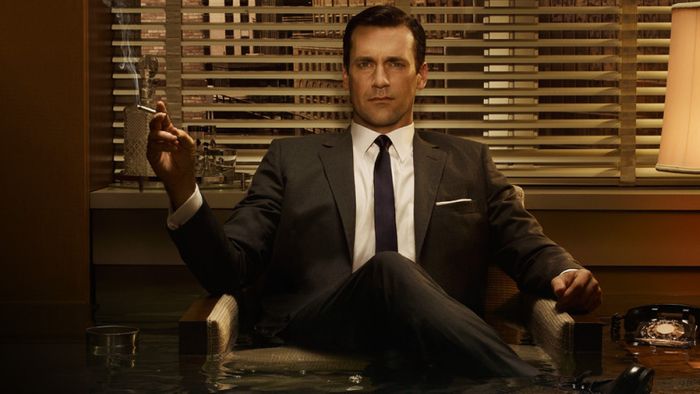 In 1995 Jon Hamm moved to his uncle's house in West Lost Angeles with the idea to pursue a career in acting. He later claimed that he moved to LA with everything he had and $150 in his pocket.
Soon, Hamm moved out of his uncle and aunt's home and moved into a rented apartment, which he shared with multiple roommates.
For years, the young man struggled to find roles. In fact, his first agency William Morris Agency dropped him, after he failed to get a single role for the first three years there.
It was then when the aspiring actor went on to work as a set designer for a soft-core porn movie.
One of the main reasons Hamm couldn't seem to get a TV or movie role was the fact that he looked older than his actual age.
After getting dropped by his agency, Hamm gave himself 5 more years to become a successful actor claiming that his 30th birthday was his set deadline to succeed.
His first TV role was in 1997 in an episode of Ally McBeal as a "Gorgeous guy in bar."
Finally, in 2000, he debuted in the comedy series The Hughleys and in Clint Eastwood's movie Space Cowboys.
It was then when he landed a role in the TV drama Providence, which he took part in until 2001. It was this recurring role that allowed Hamm to give up on working as a waiter to earn a living.
It was around this time that Jon Hamm also got a part in a play called Lipstick, which was written by Heather Juergensen and Jennifer Westfeldt, and two years later was turned into indie film Kissing Jessica Stein.
During that time, Jon began a relationship with author and actress Westfeldt, with whom he proceeded to move in.
Jon Hamm also played a tiny part in We Were Soldiers by Mel Gibson.
He also played Inspector Nate Russo in the police drama The Division for two years, until it was canceled.
After that, Hamm made a series of guest appearances in other TV shows, including CSI: Miami, Charmed, as well as Numb3rs.
He also got a recurring role in The Unit and in dramatic comedy TV series What About Brian, as well as in The Sarah Silverman Program.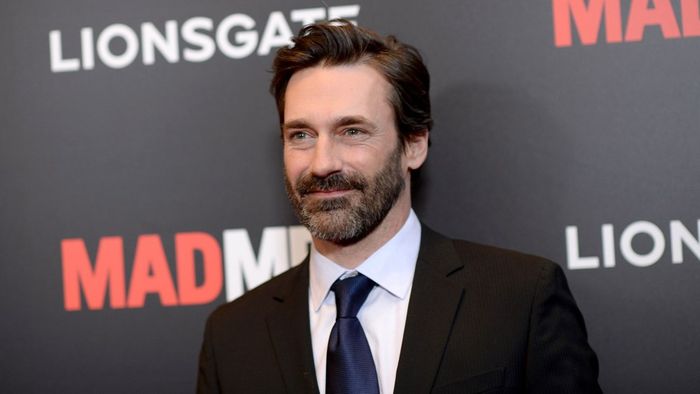 Finally, after years of struggling to find a breakthrough role, Jon Hamm got to play the tough and talented ad executive Don Draper in AMC's Mad Men series.
To get this role, Jon Hamm had to audition a whole seven times.
Mad Men is an award-winning series set in the 1960s in New York and revolves around a leading advertising agency. Since its pilot ran on July 19th, 2007, and garnered about 1.4 million viewers, it quickly gathered a huge cult following by the fans, and so did Jon Hamm.
Mad Men ran for 7 seasons from 2007 to 2015, and in the meantime, Jon Hamm won 2 Golden Globes for Best Performance by an Actor in a Television Series – Drama in 2008 and 2016. The series itself won numerous awards, and so did the other actors like Elizabeth Moss, January Jones. The series also received numerous Emmy nominations and awards, including the Emmy for an Outstanding Lead Actor in a Drama Series for Jon Hamm in 2015.
He also won the Critics' Choice Television Award for Best Actor in a Drama Series in 2011 and a CinemaCon Excellence in Acting award in 2014.
He and the other members of the cast and crew of Mad Men won numerous other US and international awards during the years.
Prior to the final season of Mad Men in 2015, Hamm admitted having undergone rehab for alcohol abuse, which he claimed to have been troubled with since his father's death in 1991.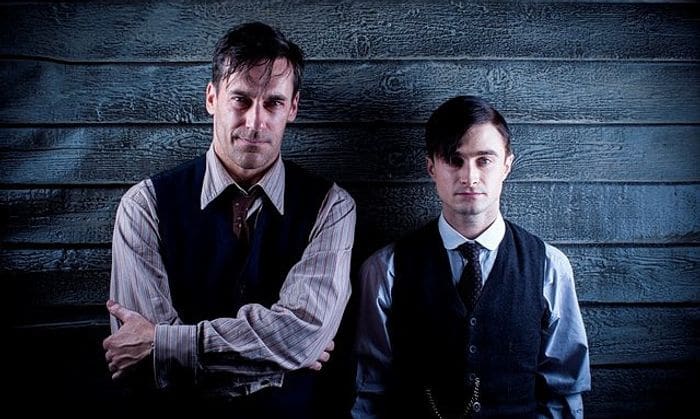 While working at the Mad Men set, Jon Hamm also got various other roles in TV shows and movies. In 2008, he took part in the science fiction remake of the 1951s film The Day the Earth Stood Still alongside Keanu Reeves.
In 2009, Jon Hamm, along with his then-girlfriend Westfeldt, established their own production company named Points West Pictures.
The couple starred in Westfeldt's movie Friends With Kids, which was released in 2012, and also included Maya Rudolph, Adam Scott, and Kristen Wiig.
He got his first lead role in a movie in Stolen in 2009, and also a major part in the independent movie Howl in 2010.
In 2010, Hamm appeared in The Simpsons as an FBI supervisor.
He also got a role in Sucker Punch in 2011, an action-fantasy film by Zack Snyder.
In 2011, Hamm played the love interest of Wiig in the hit comedy Bridesmaids.
The actor played a servant of a sociopathic billionaire in the black comedy series The Increasingly Poor Decisions of Todd Margaret in 2012.
He was also booked to play an older Daniel Radcliff in A Young Doctor's Notebook from 2012 to 2013.
Hamm also received a recurring role in the 30 Rock comedy sitcom hit, where he played a handsome and not so smart neighbor and love interest of Liz Lemon (Tina Fey). He received three Emmy nominations for his guest role in the comedy series.
In 2014, the actor took part in The Million Dollar Arm, a touching sports movie based on a true story. The movie tells the story of a sports agent who recruits a few Indian cricket players and proceeds to turn them into successful baseball pitcher in the major league.
In 2014 and 2015, he took part in Parks and Recreations as Ed but was uncredited for his small role. He also has a part in two episodes of Web Therapy in 2014.
He took part of Saturday Night Live several times in 2015, as well as in the Toast of London, and Children's Hospital TV series from 2012 to 2016.
In 2015, Hamm got a guest role in the Unbreakable Kimmy Schmidt comedy series by Netflix alongside his one-time drama student – Ellie Kemper. The actor won an Emmy for an Outstanding Guest Actor in a Comedy Series that same year.
In 2015 he also took part in Keeping Up with the Joneses, a comedy released in 2016, which also starred Zach Galifianakis and Gal Gadot.
In 2017, Jon Ham appeared in Marjorie Prime, as well as in Baby Driver – a comedy crime movie. The same year, the actor also appeared in Nostalgia – a drama, and in political thriller Beirut, and in Aardvark, and TV movie Tour de Pharmacy and TV series Big Mouth.
He also was a guest in the episode Goodbye Krabby Patty? Of SpongeBob SquarePants animated series.
Jon Hamm has a cameo in Chapter Four of the acclaimed black comedy Barry in 2018. He is the narrator if 7 episodes of Legion, as well as of an episode of American Masters. He played Abraham Lincoln in I Love you America in 2018, as well as Louis in Big City Greens in the same year.
The actor became part of the cast of the BBC adaptation of Terry Pritchett's Good Omens TV series, in the role of Archangel Gabriel.
He plays Denis McDonough in The Report starring Adam Driver as well, which is a movie about CIA agents using extreme interrogation tactics for suspects for the 9/11 attacks.
He currently completed the movie Lucy in the Sky alongside Natalie Portman, Dan Stevens, Zazie Beetz, and others, which is a drama sci-fi, expected to be released in October 2019.
Hamm is also in the cast of the sequel to Top Gun – Top Gun: Maverick, with Tom Cruise, Jennifer Connelly, and Val Kilmer, which is in post-production and is expected to be released in 2020. Hamm, who is new to the cast, has expressed his fascination with the high tech effects being used in the sequel, and how it is being shot in 6K quality.
The actor is also part of the pre-production of Jonathan van Tulleken's upcoming independent supernatural thriller, Off Season.
He also has a lead role in The Ballad of Richard Jewell, which is being filmed under the direction of Clint Eastwood, and also stars Olivia Wilde and Sam Rockwell. This is a movie following the life of a security guard named Richard Jewell, who saved thousands of people by preventing a bomb from exploding at the Olympic Games in 1996, but who was initially named a terrorist by the press.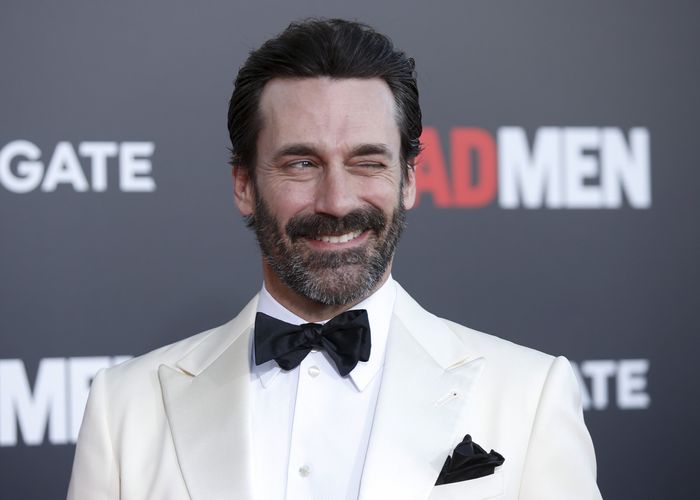 John Hamm lost his mother at the age of 10 and his father at the age of 20.
He was in a long-term personal relationship with Jennifer Westfeldt – an actress and screenwriter from 1997 to 2015. The couple never got married nor had children.
The couple met during the times when they were both still struggling young actors in Los Angeles in the late 1990s.
The two of them have their own production company, Points West Pictures. Both of them are devoted advocates of animal rescue and adopted a mutt named Cora from a rescue shelter in California.
Jon Hamm's character Don Draper smokes cigarettes on-screen throughout the entire series. Still, the actor had admitted that he personally gave up the habit when he graduated from college, so he smoked herbal filled cigarettes on the set of the series instead of real tobacco.
The handsome actor is also an avid tennis and golf player, and a devoted fan of his home town's NHL and MLB teams – the St. Louis Blues, and the St. Louis Cardinals. He was even invited to narrate the highlight movie for the 2011 World Series, which the St. Louis Cardinals won.
Hamm also is the narrator of the Amazon NFL series All or Nothing, which has been airing since 2015.
In 2012 he took part in the MLB Legend and Celebrity All-Star Softball Game representing the Cardinals and hit a home run.
In 2010 the actor became the voice of the Mercedes Benz S400 Hybrid campaign.
In 2013, he read the voice over of an American Airlines TV commercial named Change is in the Air. Hamm himself is a frequent flyer at American Airlines, and also his character Don Draper in the Mad Man series, often mentions his goal of winning big accounts such as American Airlines.
The actor has participated in numerous other TV and other commercials.
Being an active supporter of animal rescue, Jon Hamm has taken part in various advertisements and promotional clips, including Shelter Me: Partners for life. He also participates in various charities and events to support the cause, including performing pushups for 3 hours at a dog shelter for charity in 2015.
Jon Hamm and his long-time partner Jenifer Westfeldt broke up after being together for nearly 20 years in September 2015. They issued a joint statement claiming that "With great sadness, we have decided to separate, after 18 years of love and a shared history. We will continue to be supportive of each other in every way possible moving forward."
In March 2015, a representative of the actor issues a statement that the actor had successfully undergone inpatient treatment for alcohol abuse.
Hamm also declared that he had developed stress-related vitiligo during the shooting of the Mad Men series.
Net Worth
The estimated net worth of Jon Hamm is $45 million. The role of philandering ad executive Don Draper on AMC's 'Mad Men,' played by American actor Jon Hamm, won him an Emmy Award. He made the majority of his money working in the film and television industry.
Body Measurement
Hamm is 6 feet 1 inch tall and weighs roughly 92 kg. He has a waist measurement of 36 inches, a chest measurement of 43 inches, and a biceps measurement of 14 inches.
He also has dark brown hair and green eyes.